If you would like to see a provider, Republic Medical Clinic is part of FCPHD and staffed by experienced providers and medical staff.
---
We accept everyone regardless of ability to pay.
Discounts are available based on family size and income.
---
Hours of Operation
Monday–Friday 8:00–5:00
About Us
If you require the services of a healthcare provider, the Republic Medical Clinic and Curlew Medical Clinic are staffed by experienced providers and support staff to accommodate your needs. The Republic Medical Clinic is located on the same campus as Ferry County Memorial Hospital, enabling your visit to be complete if additional diagnostic services are needed. Together we are part of the Ferry County Public Hospital District #1.
Specialty Clinics Available
Republic Medical Clinic frequently hosts specialists from out of the area. We will gladly schedule any necessary exams or treatments for you. To see an up-to-date schedule of these specialty clinics, visit the calendar page.
---
Services
Republic Medical Clinic is a Primary Care Facility. Our providers are well trained in family practice. Our mission is to care for your entire family, from infants to senior needs. We offer a full range of primary care services along with the hospital, including: Physical Therapy, Bone Density testing, X-ray, CT Scans and Laboratory services. Our hospital also provides Colonoscopy and EGD services if needed.
We also have specialty providers that visit our campus throughout the month such as the VA Mobile Clinic, Inland Cardiology, Caribou Trails Orthopedic Physicians, Inland Imaging Mammograms and Spokane South Hill Foot and Ankle Clinic. Our providers work closely with the home healthcare nurses in our community along with the long-term care facility located in our hospital. We welcome the privilege to serve your needs.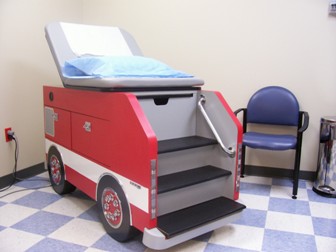 ---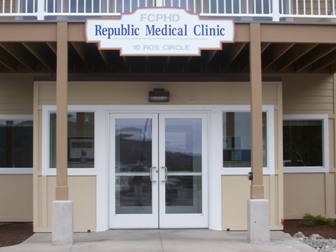 Our Mission
The mission of the Republic Medical Clinic is to provide high quality, safe, efficient healthcare to residents and visitors of Ferry County. Under the governance of Ferry County Public Hospital District #1, we strive to provide continuous, fair, and equal healthcare in our facility as we promote health choices and behaviors through community education.
We aim to practice in a positive, stable work environment based on customer service, employee satisfaction and teamwork. We value flexibility and the ability to make changes in response to a dynamic healthcare system.
---
Copyright ©Ferry County Public Hospital District 2009-2017, all rights reserved.
Having trouble finding what you want? Try our sitemap.
For questions or comments about our site use our contact form to get in touch with our webmaster (Jim Milner).